---
This page is still under construction. Yet, information of interest for visitors is available at the official web page of Segovia Tourism Office: http://visitsegovia.turismodesegovia.com/
---
Location and Venue
SPIRE 2019 will take place in Segovia, a small and beautiful city located very close to Madrid, that was declared World Heritage City by UNESCO in 1985. Segovia is well-known for its history, monuments, culture and gastronomy and will bring the attendees the opportunity to walk around the Roman aqueduct, the Alcázar fortress among others.
Segovia is well connected to Madrid (around one hour trip). Therefore, the international attendees will probably fly to Madrid Barajas – Adolfo Suárez Airport (MAD), one major International Hub, and then reach Segovia by train, bus, or car. Weather in October is mild with daytime temperatures around 20-25ºC (yet close to 10-15ºC during night).
The venue is Campus Maria Zambrano, a modern building from the University of Valladolid, located within the heart of Segovia. In addition, we will have all the lunchs at Hotel San Antonio el Real, a hotel emplaced on a convent built on the 15th Century which is only 5-min-walk away from the conference venue.
Both buildings are within walking distance from most of the hotels and monuments of the city, and in an area with a complete offer of restaurants, bars, coffee shops,…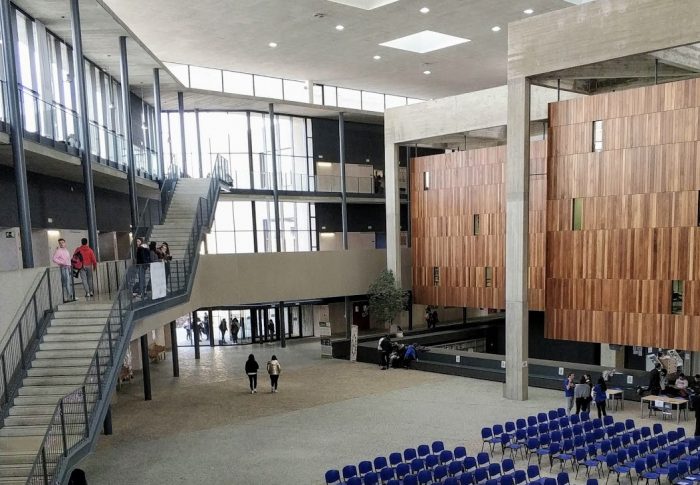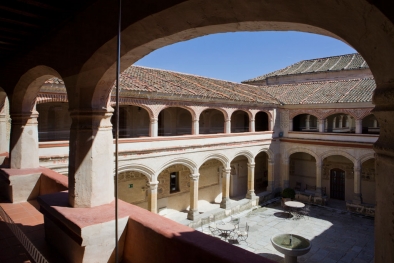 Your browser does not support inline frames.
---
Travel Information
Segovia is just 90 kilometers (56 miles) from Madrid. Thus, the best choice for international transportation is to fly to the Adolfo-Suárez Madrid-Barajas International Airport (MAD), and then go to Segovia by train, bus, or even car.
Arrival in Madrid, Spain
You will arrive at Adolfo-Suárez Madrid-Barajas International Airport (MAD). From there, you have to move to city center by either Subway («Metro» in Spanish), train («Cercanías» in Spanish), or taxi. Where to go in Madrid will depend on how you prefer to reach Segovia.
Reaching Segovia by train:
Direct high-speed train from Madrid to Segovia is daily available at Chamartin station. This train has different frequencies, both for laborable days (from 06:40 to 21:30) and weekends (from 08:00 to 21:30). Getting to Segovia-train station is a very short ride that takes less than 30 minutes. NOTE: When choosing your destination, make sure to select Segovia-Av because high-speed trains arrive exclusively at this station (it is also called Segovia Guiomar).
There are several different types of high-speed trains on this route, but all of them take roughly the same time. However, their price is rather different (seat-tourist class): AVANT tickets cost 22.20 €/roundtrip, whereas ALVIA tickets cost 39.00 €/roundtrip and AVE tickets cost 50.70 €/roundtrip. We would recommend AVANT tickets because they are really comfortable trains and the price difference is not awarded with any other service. Anyway, tickets can be purchased online and can be modified for free (with some limitations) until 15 minutes before departure.
Additional information:

In Madrid, Chamartin station can be directly reached by train or underground from the Barajas Airport. It takes roughly 30 minutes.
In Segovia, public transportation is needed to reach downtown because Segovia Guiomar Station is far from the city center. It is recommended to take the urban bus (Lines 11 and 12), which takes 10-15 minutes and costs 2 €/trip. Taxis are also available, but they are most expensive (8-10 €/trip).
Apart from high-speed train, Regional train is a cheaper (13.20 €/roundtrip) but slower choice (close to 2 hours per trip), and currently offers less frequencies. These trains are available at Atocha and Chamartin stations, and arrive to the «old» railway station of Segovia (the main advantage is that it is located within the city center>. Tickets can be also purchased online.
Reaching Segovia by bus:
Arriving Segovia by bus is also a good and cheap choice. This service is currently operated by AvanzaBus, which offers frequent departures (almost every hour from 08:00 to 23:00) from Intercambiador de Moncloa (which can be also reachable by underground from the Barajas airport) to the Segovia bus station, which is close to the city center. The ride takes around 1h20min and tickets cost 8.10 €/roundtrip ( andcan be purchased online). Bus information can change, we will confirm this in September.
Reaching Segovia by car
The proximity between Madrid and Segovia makes travelling by car another feasible choice. In this case, a car can be directly rented in the Barajas airport (arrivals are of terminals T1 and T4) and the trip just takes takes 1 hour and 10 minutes from it. In this case, the best choice is taking the toll road (AP6) because it avoids the port of Guadarrama. The free alternative is taking the national road (N-VI), which climbs and goes down the aforementioned port [route].
---
Accomodation
Segovia has a varied offer of accommodation, from modest hostels to high-quality hotels within the city center. Among them, we include here a small selection of hotels:



Your browser does not support inline frames.

---

---

Food & restaurants

Segovia offers the visitor a varied offer of food and restaurants. However, the visitor should try any of the typical foods from a Segovian menu: judiones (beans), cochinillo (young pork), Segovian ponche, and some tasty Spanish red-wine. Probably, the most renowned restaurants in Segovia are: Restaurante José María (map), and Restaurante Cándido (map).

---

Travel Grants

Unfortunately, at this momment we have no budget for Student's Travel Grants. If available, we would give further information here. Anyway, priority would be given to presenters, women, and minorities in STEM. Applications for the grants would be due in early August.